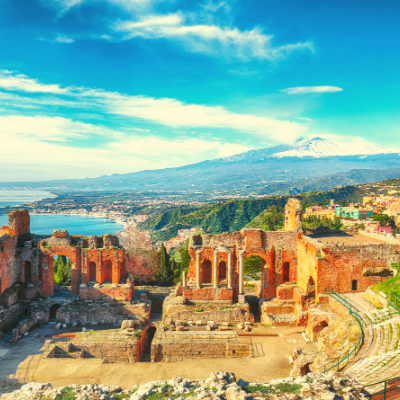 Sicília – perla Stredomoria
Čarovný ostrov s jedinečnou kultúrou, gastronómiou, najväčšou činnou sopkou v Európe,  je zároveň najväčší taliansky ostrov a najväčší ostrov Stredozemného mora. Sicília "ostrov Slnka" je obklopená nekonečnými plantážami pomarančovníkov, olivovníkov, citrusovými hájmi, priezračným morom a rozmanitou prírodou.  
Chcete aj Vy utiecť od každodenného zhonu a oddýchnuť si? Práve toto miesto je pre Vás to pravé – život tu plynie v pomalom tempe a nikto sa za ničím neženie - dolce far niente "sladké nič nerobenie"
Základné informácie:
Poloha: západne od južného cípu Talianska (od Kalábrie je oddelená cca 5km Messinským prielivom), ostrov obmýva Iónske, Stredozemné a Tyrhénske more
Rozloha: 25 703 km2
Hlavné mesto:  Palermo
Mena: euro
Jazyk: taliančina, na komunikáciu angličtina/nemčina
Časový posun: žiaden
Dĺžka letu: 2hod 15min.
Počasie:
Charakteristické je pre Sicíliu subtropické podnebie s typickou stredomorskou klímou, s horúcimi suchými letami a mierne vlhkými zimami. Priemerná teplota v lete je okolo 37 stupňov a v zime okolo 15 stupňov.
Odporúčame navštíviť tieto letoviská:
CEFALÚ
Historické mestečko sa nachádza 50km od hlavného mesta Palerma na severnom pobreží a uchovalo si svoju malebnosť a stredovekú atmosféru. Nad Cefalú sa týči zaujímavý útes La Rocca, kde bol kedysi Dianin chrám. V strede mestečka sa rozkladá hlavné námestie Piazza del Duomo, kde je dominantná hlavne katedrála, naokolo sú reštaurácie a kaviarne. Ďalšou zaujímavou pamiatkou je arabská práčovňa Lavatoio Arabo a regionálne múzeum Mandralisca. Pobrežie je lemované nádhernými piesočnatými plážami s pozvoľným vstupom do mora.
Už si stačí len vybrať ten správny hotel. Ponuku hotelov v tejto oblasti nájdete TU.
GIARDINI NAXOS
Moderné turistické letovisko na východnom pobreží Sicílie je umiestnené v nádhernom 14 hektárovom parku, kde je k videniu jedinečná subtropická flóra. Vďaka blízkosti mesta Taormina,  s ktorým má dobré autobusové spojenie sa stalo s jedným z najvyhľadávanejším letoviskom na ostrove a je odtiaľto krásny výhľad na majestátnu sopku Etnu. Zaujímavosťou je, že tu Gréci založili prvé sicílske mesto. Históriu a pozostatky antického Naxosu si môžete prehliadnuť v miestnom archeologickom parku.
Kúpanie si užijete v priezračne čistom Iónskom mori, pláž je prevažne tvorená jemným pieskom (miestami kamienky).Vcentre mestečka nájdete reštaurácie, bary, pizzerie, obchodíky a kaviarne.
Vybrať si môžete z týchto hotelov v letovisku Giardini Naxos.
LETOJANNI
Neďaleko Taorminy sa na východnom pobreží nachádza pokojné prázdninové letovisko Letojanni. Pôvodne tu bola malá rybárska dedinka a tradičné farebné loďky tu môžete vidieť aj v súčasnosti. Nechýba tu promenáda s reštauráciami, obchodníkmi a kaviarňami, obdivovať môžete tradičné  meštianske domy a neogotický kostol Chiesa di San Giuseppe. Pláž je tu zmiešaná piesočnato-kamenistá.
Ponuku hotelov v tejto oblasti nájdete TU.
CAMPOFELICE DI ROCCELLA
Toto prímorské mestečko je situované na severe ostrova. Z minulosti sa tu zachovali zvyšky opevnenia, kedy slúžilo Campofelice ako ochranné miesto. V súčasnosti je ideálnym miestom pre tých, ktorí túžia po oddychu v kľudnejšej oblasti. Obdivovať tu môžete osemhranné námestie Piazza Garibaldi, s reštauráciami, obchodníkmi a kaviarničkami, kostol Chiesa Madree, zvyšky hradu Torre Roccella. Stredisko má pláž dlhu cca 6km.
Ponuku hotelov v tejto oblasti nájdete TU.
TAORMINA
Nachádza sa na východnom pobreží Sicílie. Vďaka svojej atmosfére, pamiatkam je považovaná za najkúzelnejšie a najromantickejšie miesto na ostrove. Bola postavená na úpätí hory Monte Tauro a je z nej nádherný výhľad na azúrové Iónske more a sopku Etnu. V minulosti tu Gréci vytvorili jedno z najkrajších prírodných divadiel  na svete – v súčasnosti sa tu konajú umelecké a hudobné festivaly. Z hlavného námestie je panoramatický výhľad na okolie. Nevynechajte návštevu mestskej záhrady Giardini Pubblico, kostlík sv. Kataríny, dominikánsky kláštor a niekoľko ďalších palácov. Pohodlne sa do mestečka dostanete lanovkou.
Ponuku hotelov v tomto letovisku nájdeš TU.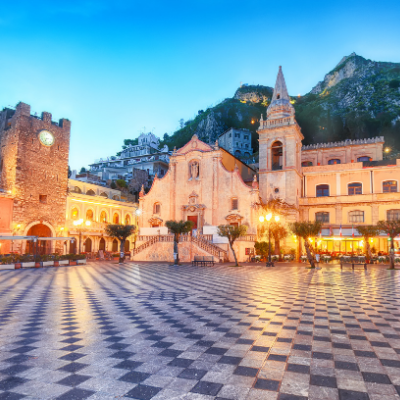 MONDELLO
Len pár kilometrov od Palerma sa nachádza obľúbené letovisko – Mondello. Uprostred zálivu sa nachádza secénska budova bývalého kúpeľného domu postavenom na móle. Pláž je tvorená čistým bielym pieskom s pozvoľným vstupom do mora a  je obklopená skalnatými útesmi Monte Gallo a Monte Pelegrino. Každoročne v máji sa tu koná svetoznámy festival "Windsurf World Festoval on the Beach" – združuje niekoľko športov (windsurfing, kiting a pod.)
SCOGLITTI
Scoglitti je malá rybárska dedinka na juhovýchodnom pobreží Sicílie pri Vittorii a nachádza sa v blízkosti archeologického areálu Kamarina. Typické pre túto oblasť sú široké pláže s jemným pieskom.
Čo určite treba navštíviť?
Isola Bella – malý ostrovček sa nachádza neďaleko Taorminy a je spojený s pevninou úzkou piesočnatou plážou. Doslovne v preklade Isola Bella znamená "Prekrásny ostrov" a označuje sa aj za perlu Iónskeho mora.
Etna – dominantou ostrova je najvyššia aktívna sopka Európy s výškou 3330m.n.m.  Výška je len približná, nakoľko sa pri každej erupcii mení. V roku 2013 bola pridaná na zoznam Svetového kultúrneho dedičstva UNESCO.  Na jej úbočí je úrodná pôda a darí sa tu citrusom, olivám či vínu réva (vysokokvalitné "sopečné víno")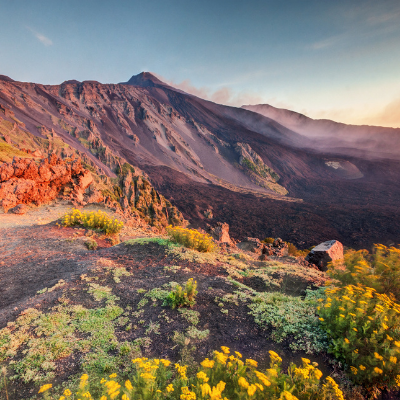 Syrakúzy – jedno z najznámejších miest ostrova, rodisko známeho matematika Archimeda ponúka množstvo pamiatok. Väčšina  z nich sa zachovala v starom meste na ostrove Ortigia kde sa dostanete mostom Ponte Vechio  (za ním je Tempio di Appolo – Apolónov chrám)  a v mestskej štvrti Neapolis. K videniu je tu napríklad ďalej námestie Piazza Del Duomo, areál gréckych pamiatok , kde nájdete Teatro Greco či Orecchio di Dioniso – Dionýzovo ucho (obrovská jaskyňa po Teatro Greco).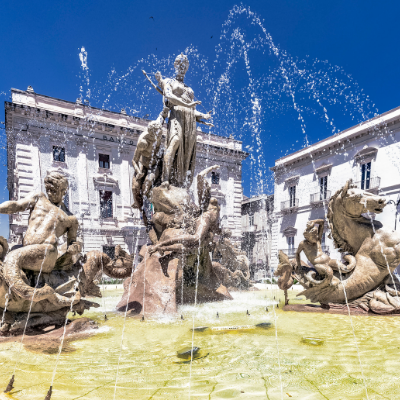 Prírodná rezervácia Zingaro – 7km dlhá pobrežná prírodná rezervácia je domovom mnohých vzácnych zvierat a rastlín. Jednou z nich je palma žumara nízka, ktorá je aj na oficiálnom znaku rezervácie. Okrem iného tú nájdete aj menšie skryté zátoky.
Palermo – hlavné a zároveň najväčšie mesto Sicílie, kde dominujú  úžasné pamiatky, bohaté na byzantskú, arabsko-normánsku a barokovú architektúru. Očarí Vás námestie Piazza Pretoria či Piazza Marina, kostol Martorana, kapucínsky kláštor Convento dei Cappuccini, divadlo Massimo a rôzne katedrály. Poprechádzajte sa rušnými ulicami s tradičnými trhoviskami.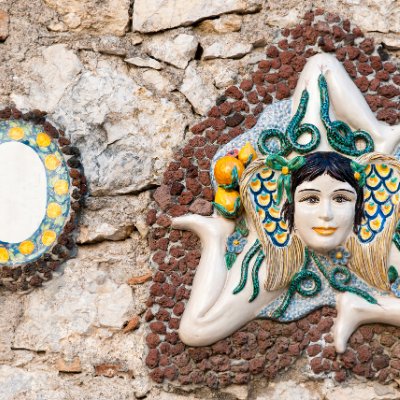 Catania – druhé najväčšie miesto na Sicílií, ktoré leží v tesnej blízkosti sopky Etny. Dominantou mesta je barokový štýl. Hlavné námestie Piazza del Duomo obklopujú elegantné budovy Symbolom mesta je slon, ktorý je aj dominantou hlavného námestia v podobe fontány  so sochou slona, ktorá bola vytvorená z čierneho lávového kameňa.
Etnaland – blízko Catanie (18km) sa nachádza zábavný park, ktorý sa detí na tematický a vodný svet. Určite tu zažijete veľa zábavy.
K Sicílií patrí niekoľko ostrovov, ktoré určite treba tiež v rámci výletu navštíviť: na severe sú to ostrovy Eolie (Lipárské), ostrov Ustica, na západe Egadi a na juhu súostrovie Pelagie a Pantelleria.